According to sources, a Russian Overwatch group discovered the leaked image and description of not only a brand new Overwatch hero but a brand new, upcoming game mode as well. The image has since been posted on Imgur, Reddit, NeoGAF and various other sources and can be seen below: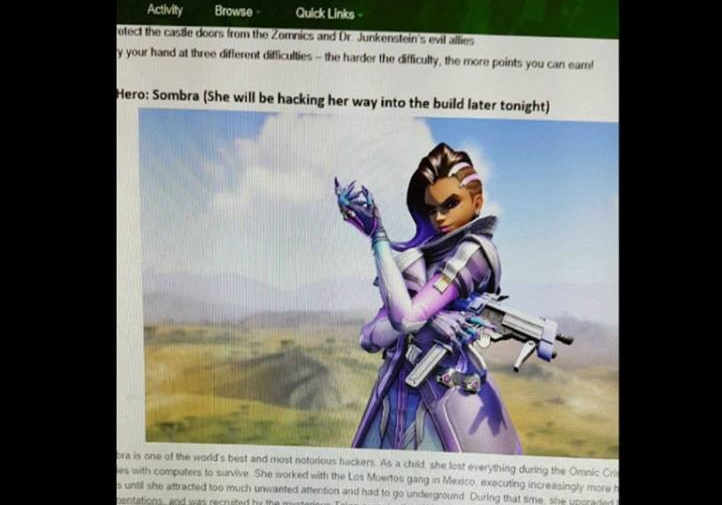 Meet Sombra, one of the world's best and most notorious hackers. Though the text in the image is distorted, this much was deciphered by Reddit users:
[…][p]rotect the castle doors from the Zomnics and Dr. Junkenstein's evil allies."[…]
[…]ry your hand at three different difficulties – the harder the difficulty, the more points you can earn!

Hero: Sombra (she will be hacking her way into the build later tonight) [PICTURE]
[…]bra is one of the world's best and most notorious hackers. As a child she lost everything during the Omnic Cris[…]
[…]ies with computers to survive. She worked with the Los Muertos gang in Mexico, executing increasingly more h[…]
[…]s until she attracted too much unwanted attention and had to go underground. During that time, she upgraded h[…]
[…]nentations and was recruited by the mysterious Talon organization. While Sombra seems content to work with[…]
It sounds a lot like the upcoming game mode is a Halloween tie-in, not unlike the recently leaked Halloween Loot Boxes and if the rumours are to be believed, is likely to be made available in the next update.