I recently got to spend a lengthy amount of time with Ubisoft's next flagship AAA title, Far Cry 5. My overall impression of how the game is shaping up so far is strongly positive, and you can read more here, but one secondary questline in my play session made a particularly strong impression and will no doubt be a hot topic in the lead-up to the game's release. Here is my account of the mission titled Testy Festy;
Picking up where the previous E3 build left off with the liberation of Fall's End, I'm given free reign to roam this entire section of map and do as I see fit, and wow, where do I start? Rather than open the in-game map and attempt to choose between any number of points of interest dotting the landscape, I decide just to make my own way and see where it takes me. Fall's End's local watering hole, the Spread Eagle, seems like as good a place as any to get acquainted with the locals and maybe pick up a hot tip or two.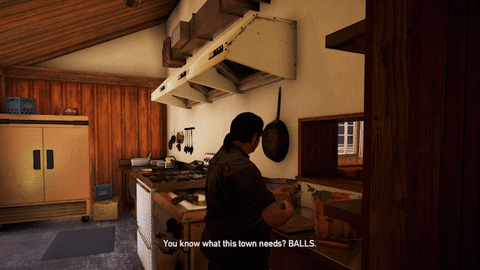 A handful of conversations later and I've picked a couple of interesting-looking missions, but one immediately stands out to me more than the rest – a quest titled Testy Festy. The Spread Eagle's resident cook, Casey Fixman, is preparing for the town's annual Testicle Festival and needs some help with some new bull testicle dishes he wants to try out just in time for the, uh, prestigious culinary celebration. My first errand for Casey simply involves heading to a local barn to pick up a trailer full of equipment, but when I get there I find the barn's owner in a spot of trouble.