AYANEO has been pumping out devices in the last year or so and yet somehow, they're still finding new product markets that hit a new demographic and totally change the feel of the device. Enter, the AYANEO Air Plus which has the same 6800U processor (at least in the version I tested) as the AYANEO 2, but a form factor that isn't too dissimilar to that of the AYANEO Air Pro, but with a slightly larger display and high-end performance, it feels like the sweet spot between all of the devices that came before it.
The AYANEO Air Plus has a 6-inch 1080p touchscreen IPS display, so it's a touch bigger than the 5.5-inch found in the Air Pro, and it also loses that gorgeous OLED display, but it's still a fantastic looking display with decent brightness and great colour vibrance.
The larger display means that it's slightly bigger than the Air Pro as well, but I think it feels really good in the hands, not quite as big as the AYANEO 2, and also coming in at 130 grams less in weight, making it more comfortable for long term sessions. Really, it's just impressive that this type of performance can come out of a handheld of this size.
The Air Plus features hall sensing mini joysticks, which aren't as good as the AYANEO 2 joysticks, but super comfortable to use for the size, it has hall trigger triggers which feel great to use, and face buttons which feel a little bit smaller and more cramped than I'd like but again, they provided great responsiveness and still felt good in the hands.
In terms of inputs, it's pretty standard among AYANEO devices now. You've got a full function USB4 USB-C port on the top and bottom which is fantastic for charging or connecting to an external GPU, you've got your MicroSD card slot, a fingerprint reader on the top as well as some extra macro buttons on either side of the top can be customised with actions like bringing up your keyboard or task manager.
Just in case you haven't heard about AYANEO devices before, they run Windows, with this particular model running Windows 11, so absolutely any game that can be played on a PC can be played on this device. This isn't limited to just Steam, but any launcher including Xbox Game Pass, Epic Games Store, Rockstar, Ubisoft etc.
There's a big range of AYANEO Air Plus devices. All can be found on the Indiegogo site HERE. The 6800U model that I tested is aimed at high-end AAA gaming, and is priced appropriately at $1,205 AUD, but it goes as low as $412 AUD for the Ryzen 3 7320U or Intel Adler Lake i3 1215U which are great for lower demanding games on the indie side or maybe some basic emulation.
This is a very capable gaming device. Whilst playing games such as Returnal, Cyberpunk 2077 and The Last Of Us Part 1 at 25w with high settings at 1080p (with AMD FSR set to balanced), I was able to get near enough to 30FPS for all of them, with games such as Red Dead Redemption 2, Horizon Zero Dawn and Forza Horizon 5 all pushing closer to 60 FPS, but you can expect to get even better performance if you're happy to drop this down to 720p.
AYANEO AIR PLUS 6800U PERFORMANCE
1080 / High / AMD FSR: Balanced / 25w
The Last Of Us Part 1 – 30 FPS
Returnal: 27 FPS
Horizon Zero Dawn 42 FPS
Cyberpunk 2077: 27 FPS
F1: 57 FPS
Forza Horizon 5 – 51 FPS
Red Dead Redemption 2 – 44 FPS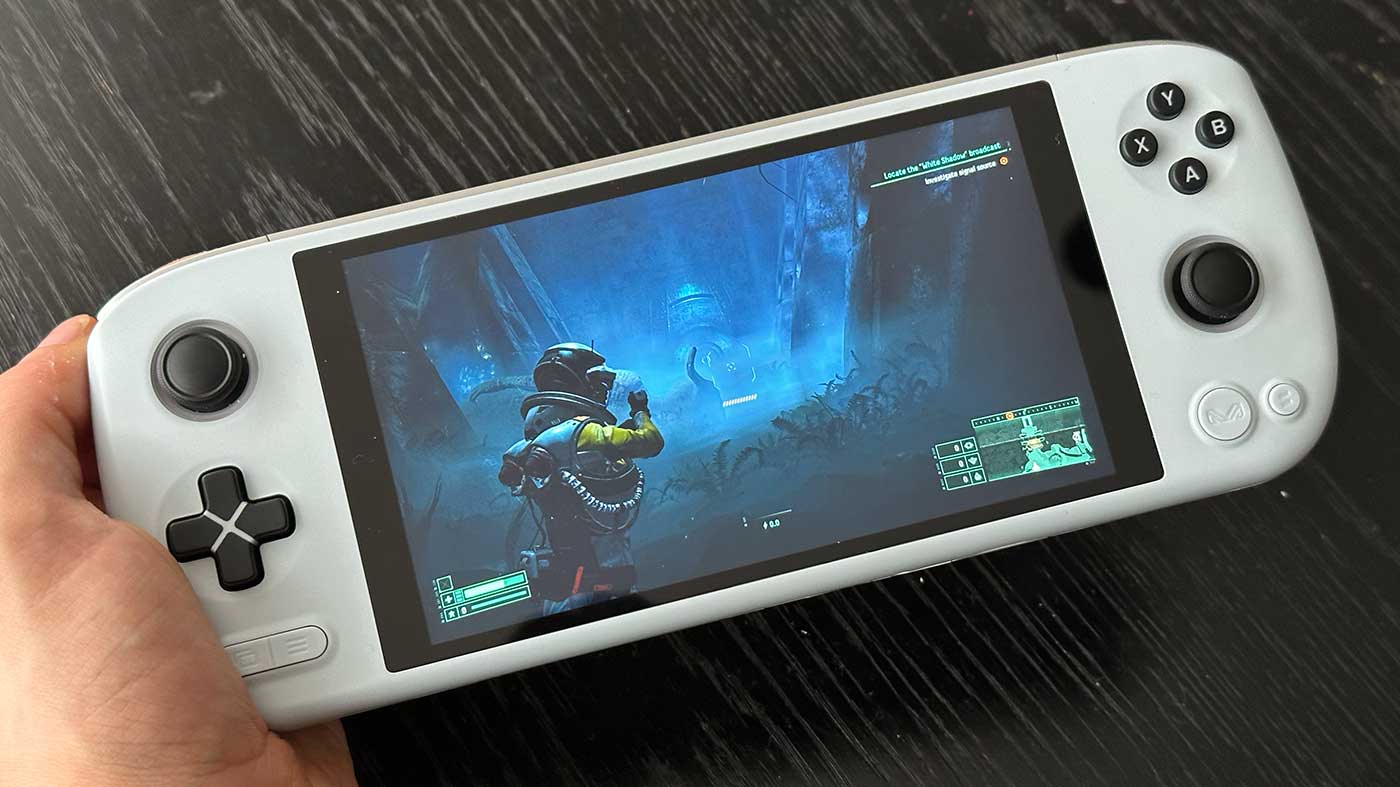 Battery life has been the big issue with any high-end Windows gaming device, and it's not the worst that I've experienced with the AIR Plus. It has a larger 46.2Wh battery which lasted me about an hour playing at the 25w required to get a decent 1080p gaming experience, but when dropping to 20 watts I was able to push that to 90 minutes and you'd be looking at 2-3 hours when dropping this even further for indie games.
Whilst the AYANEO 2 got fairly hot when it launched (a heat dissipation kit has now been released), this isn't really the case with the AIR Plus. The fans definitely ramp up which can get in the way of the speakers a little bit, but I'd rather that if it means keeping the actual unit cool in the hands.
As mentioned, the AYANEO Air Plus runs Windows 11 which is a huge positive for playing absolutely any game that you already own (and not just on Steam) as well as emulation, which obviously this machine excels at, but it's also still a bit of a negative in the sense that Windows wasn't really designed to be used with a touch screen. It's absolutely fine if you're just booting a game, and not an issue once you're in, but it can still have its quirks if needing to navigate around, with it often being much easier to just pair a keyboard and mouse (which is super easy to do with Bluetooth or with a dongle).
AyaSpace is the device's front-end loader, and it does a great job at providing an overlay with quick access to changing brightness and how much power you're using, as well as sorting your games from all of your launchers and displaying them. There were still a few bugs, particularly when changing resolution or not loading games in, but it's constantly being updated and worked on. As cool as a design feature that it is, I still found inconsistencies with the lighting up of the analogue sticks as well, particularly when having the device next to me and trying to sleep.
Ayaneo has launched a new multi docking station alongside this device, which is great for connecting the AYANEO Air Plus up to a monitor and playing games on the big screen or just using it for productivity. It can work with any of its products, but I can't tell you how much this improved the experience. Not only did it mean that I could easily charge the device at all times, it also made connecting a monitor via HDMI as well as keyboards/mice a breeze. As I mentioned earlier, you could now literally use this as your daily driver without any issues, then pick it up to take it to bed and game.
This is just such an exciting space to watch and nobody is innovating faster than AYANEO who just keeps utilising the latest tech available in a number of form factors. It'll be interesting to see how the soon to be released ASUS ROG Ally shakes up this market even further.
The AYANEO Air Plus is available on Indiegogo with early bird prices HERE. 
Conclusion
The AYANEO Air Plus provides fantastic performance in a more compact form factor. It's another great release from AYANEO and almost downright unbelievable that a handheld this small can have this much power.
Positives
Great Form Factor
Really Solid Performance
It Can Play Anything
Negatives
The Loss Of The OLED Display
Battery Life