The Far Cry 6 release date was announced over the weekend and in typical Ubisoft fashion, there's a host of different editions that you can buy come October 7th.
The Collector's Edition will set you back $309.95 and includes not only a copy of the game, but a replica flamethrower, some artwork, a Collector's Case, a Steelbook, a 64-page artbook, a Chorizo keyring, 10 stickers, a soundtrack and a map of Yara.
WHAT'S INCLUDED:
A replica of "Tostador", the flamethrower.
A "How to Assemble" one-pager artwork.
A unique Collector's Case.
An exclusive Steelbook.
A 64-page Artbook.
A set of 10 stickers.
A Chorizo keyring.
A Selected Soundtrack of the Game.
A Map of Yara.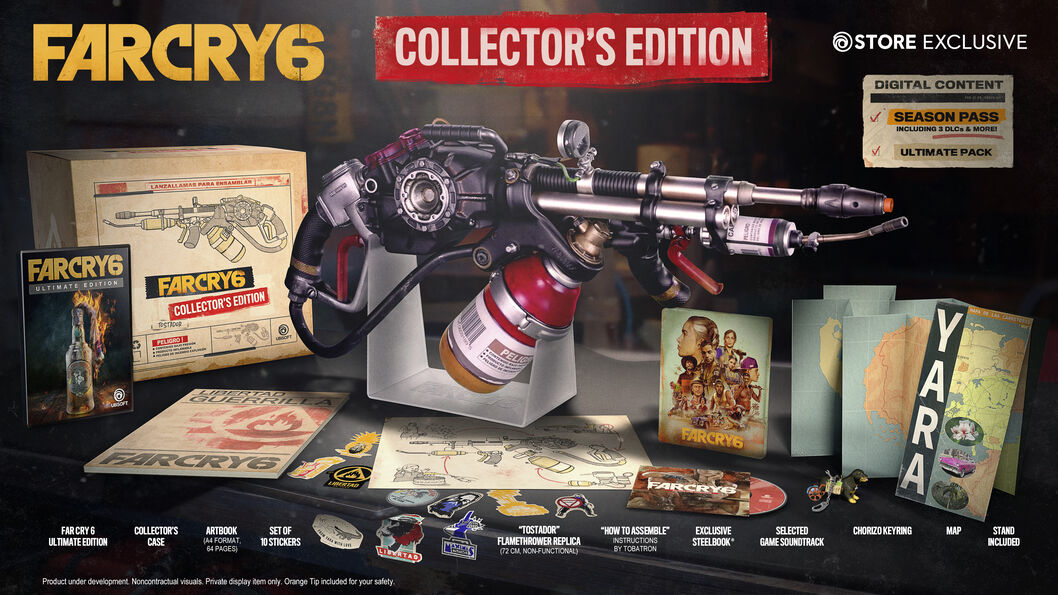 If you're as much of a fan of Chorizo the Sausage Dog as I am, Final Boss Bundle has created a Fangs for Hire collection that doesn't include the game, but it includes a 10″ Chorizo Statue, a Dog Bandana & Tag, two embroidery patches, a mini metal Chorizo number plate, an enamel pin, postcards and some prints.
This bundle will set you back about $150 AUD but again, won't include the game, which is a shame. Unfortunately, it doesn't look like the company is shipping to Australia, which is super painful as this looks like a great little edition.
WHAT'S INCLUDED:
10-inch Chorizo Statue
Libertad Chorizo Dog Bandana & Tag
Set of 2 Embroidered Iron-On Patches
Chorizo Mini Metal Plate
Set of 3 Postcards
Set of 3 Lithographic Prints
Anton's Flag Soft Enamel Pin
Yara Flag Wall Tapestry
If you're just after the plain old regular version of the game, the cheapest price is currently $72 on Amazon. You can find that HERE.
---
WE LOVE BRINGING YOU THE BEST GAMING AND TECH BARGAINS. WE MAY GET A SMALL PERCENTAGE OF THE SALE THROUGH AFFILIATE PARTNERSHIPS