The original AFL Evolution, Wicked Witch's second attempt at porting our oval ball game to the digital medium, was a tiptoe in the right direction though, unlike Liam Ryan climbing over the mountainous ruckman Max Gawn, it failed at reaching any great heights. Our national sport is just that, niche and, for the most part, limited to our home soil meaning its reaches aren't ever going to contend with worldwide sports like Europe's round ball game or basketball. All we can hope is that going to be forever blessed with local developers hellbent on adapting our beautiful game, budgets be damned.
Though there are once again iterative improvements to be found, AFL Evolution 2's core experience is similar to that of its predecessors. It's not without jank and atypical interpretations of the game's more nuanced elements, though it remains as faithful a portrayal of footy as we've seen in gaming. If you're unfamiliar with the sport itself, and if you're uninitiated with past AFL games, there's going to be a steep learning curve to grasp the core experience here. With an exhaustive catalogue of skills to learn, apply and, eventually master, the road to handling this game on its absolute hardest difficulties will be a long one.
Once adept, the game serves as fine a facsimile as there has ever been for Aussie rules. From the first ruck contest to the last, nail-biting, after the siren shot at goal, it's a mechanically sound experience that is a marked improvement on the last iteration, even if it feels like it's on the cusp of breaking apart at times. The one thing I felt truly in control of was goalkicking, practice made perfect in that arena. Marking, on the other hand, felt like a crapshoot. The knowledge that positioning is everything for ripping the pill down in a pack grab didn't really help. My dukes knew only fleeting, seemingly random success as the true secret to marking eludes me still. Sadly, it's a game that's going to live and die by its modes and right out of the gate, it's on life support. It's troubling that exhibition matches and simple tournaments feel like the purest and most intact experiences one can have here, the career modes often feel like a complete shambles.
Though Be a Pro returns from Evolution and remains a truly enjoyable way to consume the football part of this game, its menu-driven content can often be riddled with inconsistencies that really tarnish the experience. Despite constantly shouldering whichever team I played for, it didn't seem to matter how many goals or possessions I'd win. I endured a constant rollercoaster of promotions and demotions as I'd be sent between the firsts and seconds to the point of whiplash. The same worries extend to the Coach Career mode, which plays out like a traditional team manager mode where funds, staff and players must be managed in pursuit of the holy grail. Though injuries do unfortunately put careers on hold in our great game, Evolution doesn't buy into that philosophy as I'd get emails from players who'd just fractured their leg, who are preparing for months out of the game, but declaring they're ready for their shot at the big time. I even scrapped to a top-four finish, which should have guaranteed me a double-chance in finals, only to be paired off with eighth in an elimination final to kick off our finals campaign. It's peculiar, broken and inherently unfun to endure a senseless management sim so ungrounded.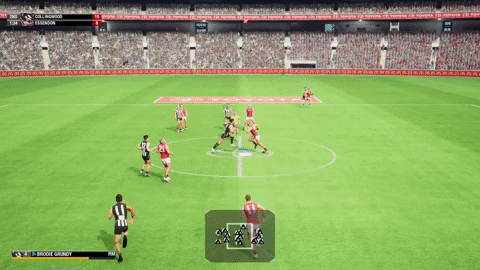 Evolution 2 introduces a Gameday feature that will be an excellent step for the franchise. It's not dissimilar to NBA Today, a mode that draws from the real-world schedule for gamers to enjoy each day. Of course, with the state of the world at the moment and with the season currently delayed, Wicked Witch is tasked with cooking up a creative sidestep for the problem. With one round having been played out, we're able to get a look at how it'll all play out, though going forward I expect they might use past seasons or classic games as a kicking off point for keeping this mode ticking along until regular broadcasts recommence.
As is the case with most sports titles, the online multiplayer is the beating heart of the product. It's key to the longevity of the product and I can't say I feel Wicked Witch has done nearly enough to flesh out the competitive component of the game. With only ranked, unranked and private matches to choose from, I really wish there was a league function where you could set up an ongoing season that rolls out on a weekly basis. That said, even though they remove the bells and whistles of the post-match celebration and cut unceremoniously to the stats, the game is stable. And let's be honest, the game is at its best when playing against real pundits, even if the 'easier to mask with A.I.' warts become more apparent in the process.
Like the original AFL Evolution, most of the player scans look pretty remarkable and accurate to the real-life counterparts. In motion, they're a little less convincing as bulging, unblinking eyes litter the pre-game huddle, but on the whole, it's again surprisingly good looking if you're focusing on the right areas. The crowds, as usual, are egregious to behold as coloured pom-poms wave freely midair, unattached like Rayman's appendages. I hoped that Anthony Hudson might lend a bit of class to the commentary box in this year's outing alongside Lothario himself Garry Lyon, and though it's far from organic and natural, I think it's slightly better than Richo's efforts. Of course, it's fragmented and incoherent in its delivery, and I don't envision a future where this isn't the case.
It's leagues ahead of the game's crowd noises, however, which sound as though they were filmed by about eight people inside a shipping container. With a secret achievement tied to kicking thirteen goals, it would have been nice to have Hudson redeliver his iconic call from the day Lance Franklin sent the pill through the big sticks thirteen times against a hapless North Melbourne. It might exist somewhere deep within the code, waiting to be coaxed out by a much-needed patch to iron out the other chinks.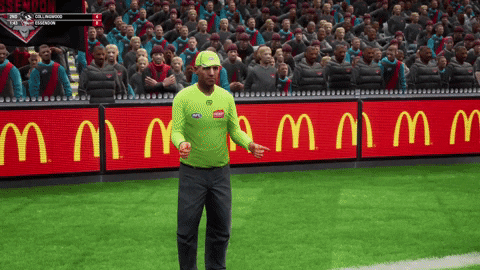 It's not a pleasant situation that Wicked Witch finds themselves in, the more content they endeavour to ship the product with, the worse off the game seems to be. If you could boil the experience down to just the core experience, I'd call this game a marked step up from their last effort. It's when you factor in the extra work that likely attributed to the delays this game faced, the work that has largely fallen flat, that you can't help but wonder if this team isn't made up of a bunch of bloody back-pocket plumbers. Collingwood couldn't fire a shot between 1958 and 1990, and though this isn't a failure of even remotely comparable magnitude, perhaps we're living in the age of the 'Witchiwobbles'.
THE XBOX VERSION OF THIS GAME WAS PLAYED ON AN XBOX ONE X FOR THE PURPOSE OF THIS REVIEW. A DIGITAL REVIEW CODE WAS PROVIDED BY THE PUBLISHER.
Conclusion
Like Evolution before it, AFL Evolution 2 is the best of the footy games. Of course, the bar isn't a high one, though it's fortunate in a way that it's the core gameplay experience that does the heavy lifting. Modes can be fixed, patched and reworked with less work, so knowing that the foundation is rock-solid is a bonus for Wicked Witch as they'll no doubt return time and again in pursuit of the holy grail.
Positives
Great Core Experience
Decent Player Likeness And Animation
Negatives
Online Is Fun, But Not Deep Enough
Modes Aren't Great
Commentary Is Still Bad
Everything About The Crowds