Deep Silver and Dambuster Studios have revealed some key performance details for Dead Island 2 ahead of its release next week on April 21st, including the recommended specs for PC players at different quality tiers as well as a little of what to expect on the console side.
As far as PC goes, everything seems pretty indicative of a cross-generation release with 1080p at 30fps achievable on the lowest quality setting with fairly modest gear, although the 10GB memory requirement at the bottom end might hurt some. At the top end it's a 13th Gen Intel Core i7-13700K and NVIDIA GeForce RTX 3090 or equivalent, with the RAM requirement for that and the "recommended" and "high" tiers sticking at 16GB. You'll also need to keep 70GB of storage available for this one.
Take a look at the full spread below: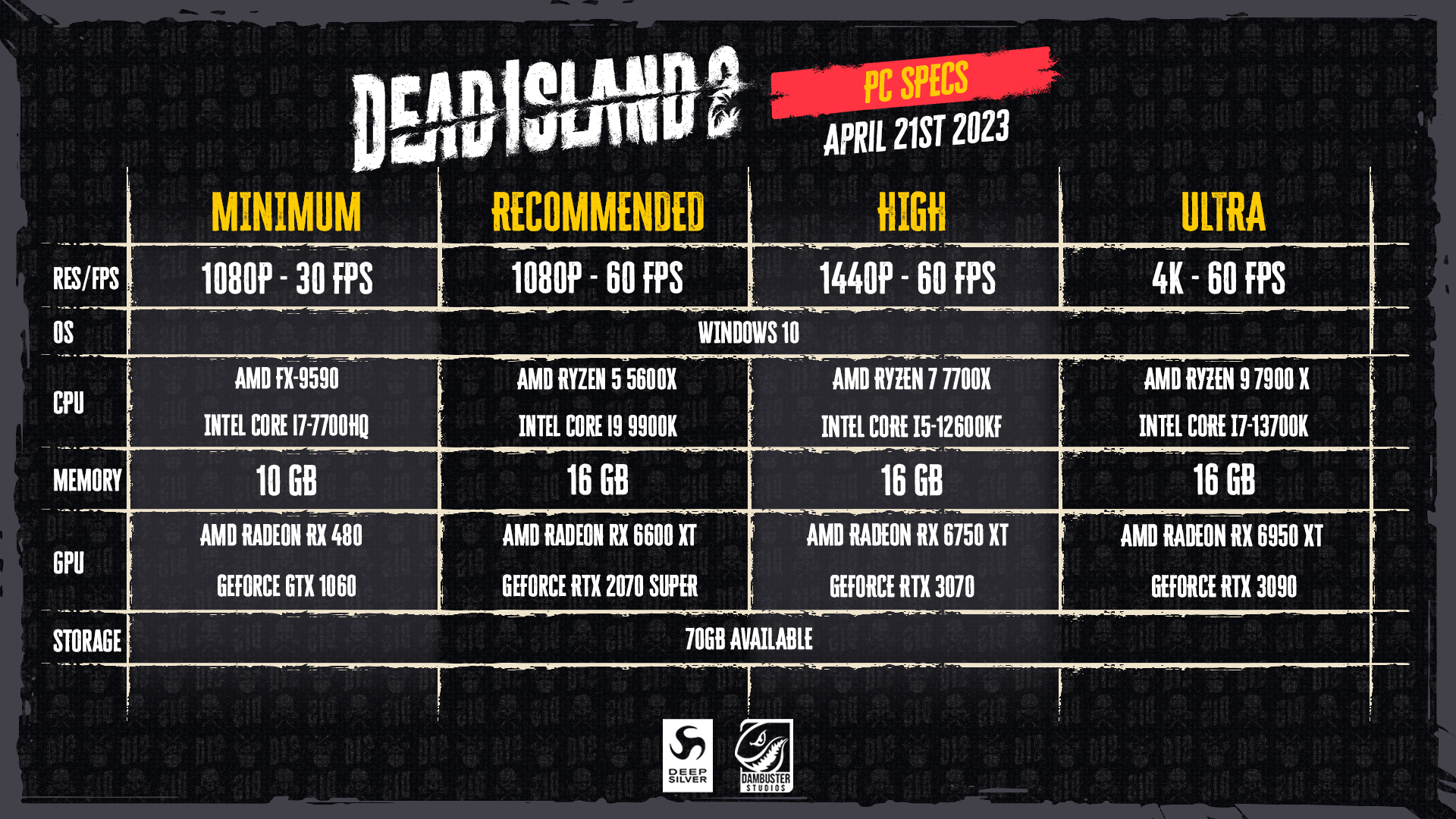 On the console things, it's been confirmed that the PS5 and Xbox Series X|S versions of the game will run at a 60FPS target while the last-gen consoles top out at 30FPS, though resolution differences between the platforms hasn't been discussed.
Cross-gen multiplayer is also in, but not cross-platform, and the studio promises it'll have more general information on the game's co-op featureset in the coming days.
The rest of the information shared in the new FAQ is as below:
Dead Island 2 FAQ
Does Dead Island 2 support cross-play?
No, Dead Island 2 will not support cross-play.
Will there be multiplayer in Dead Island 2?
Dead Island 2 will have a co-op story mode for up to 3 players. We'll reveal more details about co-op soon in another blog!
Is Dead Island 2 cross-gen?
Yes, Dead Island 2 will support cross-gen. Again – more details are coming up soon in a blog dedicated to co-op!
Does Dead Island 2 have key + mouse support on consoles?
No – Dead Island 2 will support key + mouse only on PC.
What languages are available in Dead Island 2?
While Dead Island 2 will only have English audio, the subtitles, tooltips, options, and menu items will be available in the following languages: English, French, German, Spanish, Italian, Russian, Brazilian Portuguese, Mexican Spanish, Polish, Czech, Simplified Chinese, Traditional Chinese, Korean and Japanese.
What's the FPS count for Dead Island 2 on each console?
PlayStation 5/Xbox Series X|S – 60 FPS
PlayStation 4/Xbox One – 30 FPS
What controllers are supported in Dead Island 2 on PC?
The options menu in Dead Island 2 provides layouts for Xbox Series X|S, Xbox One, Xbox 360, PlayStation 5, and PlayStation 4 controllers.
Is there a streamer mode in Dead Island 2?
Yes, Dead Island 2 has a streamer mode that blocks licensed music. However, while launching the game, players will first watch the Cinematic Title Sequence, which also has licensed music, so we recommend caution. Additionally, the streamer mode does not have a gore filter.
Which HUD elements are customizable in Dead Island 2?
In Dead Island 2, you can customize the following HUD elements: player health & status, compass, quest objective information, objective markers, co-op player roaster, central notification pop-ups, left side notification pop-ups, reticle, radio messages, message log, small central hints, stamina bar, weapon pick up log, weapon information, curveballs information, zombie health & status, interaction locations, weapon pickup information, damage numbers, quick time event information, hazardous threat indicator.
Which DirectX is supported in Dead Island 2?
Dead Island 2 supports DirectX 12 only – it does not support DirectX 11.
Does Dead Island 2 support AMD FidelityFX™ Super Resolution (FSR2) and AMD
FidelityFX Contrast Adaptive Sharpening?
Yes – Dead Island 2 does support both. You have the option to turn FSR2 on in the graphics menu. RCAS is enabled by default.
Does Dead Island 2 support performance-boosting software?
No, Dead Island 2 does not support performance-boosting software.