Following on from yesterday's leak, Sony has now confirmed to Spider's Web that PlayStation Plus Video Pass will be in testing in Poland for the next 12 months.
The service will be in testing for 12 months and bring 20 movies and televisions shows from Sony Pictures with new content being added every three months.
It's unclear if other territories will get the service over the 12 month test period, but we'll let you know on any advancements that come out. We're not holding our breath considering PlayStation Now still hasn't arrived in Australia.
SIE's VP of Global Services told Spider's Web that "At this stage, however, I cannot say whether it will be created and what the test process will look like for other markets, as well as what the future is for PlayStation Plus Video Pass after the test period.
"We are currently focusing only on the Polish market, on Polish players and what will be their reaction to the additional benefit under the PS Plus program." he continued.
THE FILMS AND TV SHOWS THAT ARE LAUNCHING ON THE SERVICE ARE:
Filmy:
Bloodshot
Jumanji: The Next Level
Zombieland 2: Double Tap
Charlie's Angels (2019)
Venom (2018)
The Equalizer 2
Baby Driver
Blade Runner 2049
Underworld: Blood Wars
Arrival
Sausage Party
Inferno (2016)
American Hustle
This is the End
Bad Boys (1995)
Seriale:
Future Man
SuperMansion
Community
Deadly Class
S.W.A.T.
Lost Girl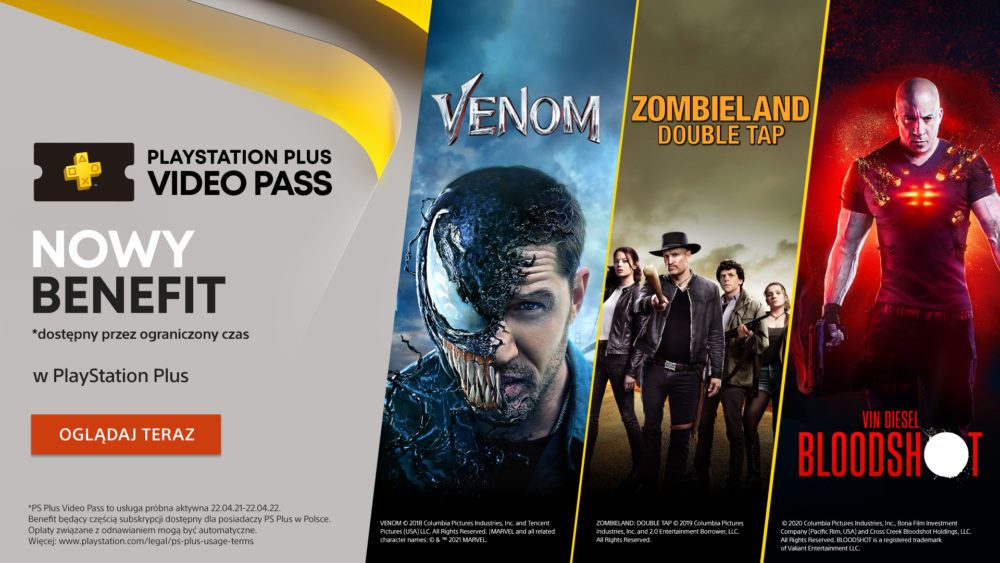 We'll keep you posted as we find out more.